The story of how the photos were taken, scored the maximum number of views. This block consist on three entries, two more – about photos of 1-3 and 4-6 places.
Photo №7, "At midday at the edge", > 2.3 thousand of views. Received a virtual prize "rating photo of the day". Photographed at the ski resort "Novoperedelkino" (Moscow). This slope – quite an interesting construction – in the big field was raised hill, with "working" northern slopes, while the southern slope – break. It is this "edge" at photo. There was a very good light, so at the end of training I ran to the car and took camera. Ice hummocks – product of work of "snow gun" that prepare the slope. And generally speaking, they are not large.
To illustrate how illusory world, pictured in the photos look at shot at about the same point, but to the opposite direction.
Photo №8, "Rus / Mid", > 2.2 thousand of views, taken by occasion. I was driving the car in business trip. It looks for me that this mix of: late autumn, coloring nature in black and gold colors, light, scenery – well illustrate of my understanding of the phrase "central Russia."
Photo №9, "Bue,  kinder garden"> 1.7 thousand of views. This is – the performance in kindergarten devoted to finish.  My child at left. I – among parents. I understand that it is very good combination of light – bright but low spring sun from the window behind children and the light from the flash on the camera (with diffuser like "lumiquest"). Shot and shot. When viewing –  noticed that facial expression and postures of children – "hitch eye", so picture went beyond the "home album". This picture I saw then in Internet as an illustration to articles about kindergarten 🙂
That's all about top 9 photos that get maximum of hits 🙂
Just in case, bring links to photos of the blocks 1-3 and 4-6
---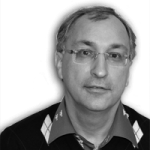 Vadim Nikitin