The story of how the photos were taken, scored by maximum number of display. This block has three entries, two more – photos of 1-3 and 7-9
Photo №4, scored > 3.1 thousand of views – photo_story of the "Deep evening". For more information about photo_story have a look of comments to photos place #3, here (in previous post)
Photo №5, "Dad and daughter", > 2.9 thousand of views, taken in my home studio. This is – my brother and his daughter. I did as usual lot of shots, just for "home album". I like to shoot portraits. It is important to press the button when a person "open". And to make it more and more, because then on the big screen it looks different then when shooting. Group portraits need to do a lot more shots, because all the characters should look good. When I looked at this picture something "caught" me. Therefore, I decided to share it with the Internet community.
Photo №6, "Venus Kallipiga", > 2.8 thousand of views. It – one of the two sculptures  in Pavlovsk's park that we like much more than any other. Generally, Pavlovsk – home residence of Russian tsars, has a powerful energetics. Every time when we visit St. Petersburg, we find a time for a trip to Pavlovsk, to walk in the park. And every time visit our "friends" – Tancredi and Kallipiga.  We shot Kallipiga with white background. One hold background, the other – shot. At the bottom of the picture it is shown. About Kallipiga – information from the note to a photo.
Pavlovsk (suburb of St-Petersburg), garden, bronze sculpture, copy from ancient original of 1 centure B.C.

Venus, or Afrodita was the etalone of beauty. From the 3 century B.C. her sculptures were made as naked (nude). The first sculpture was named "Kallipiga" what means "with beauty buttocks". After this the cult of Afrodita (Venus) Kallipiga was differ from the cult of classic Afrofita.

Captured with a help of white background, in PS were smoothed the contrasts at skin and increased the light at the face.
There – the end of a note about pictures rated 4-6, there are two more notes – photographs of 1-3 and 7-9
---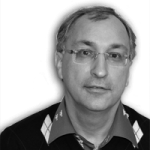 Vadim Nikitin