In the photo forum, you can sort photos of the author on the number of views. Here I will talk about how my photographs which took the first three places were taken. Then – another two blocks about 4-6 and 7-9 places.
First photo art work – "In the castle", > 28 thousand of views. It is a collage of three photos. In the background is a castle in Milan, shot in the afternoon. The color of the sky for drama was shifted to the red. In the middle ground – a wonderful sculpture from Pavlovsk Park, about which little is known. We call her "Tancredi", as the inscription (Tancredi) curved on it. Sculpture was "mirrored" and in Photoshop was added more marbles texture. The pedestal made in 3D program. In the foreground is a model, photographed in my home studio. In our studio there is a good light, but not enough space to shot a full-length portrait. Therefore, the legs would not fit. Added to model marble texture, with the same structure as Tancredi. Then collage was mixed and painted necessary shades. The photo took a virtual prize "rating photo of the day".
Second photo art work – "Balle", > 9 thousand of views. It's a collage of two photos. Background – Ballroom from Engineering Castle, the residence of Paul I. The foreground – the same home studio. Dress – "club dress", with a holographic embossing, bought in the store for the youth, in Germany. Hairstyle – Hairstyles of the sets for Photoshop, it is not real hairs. The photo took a virtual prize "best photo of the day".
The photo on the third place – from photo story "Deep Evening", > 3 thousand of views.  Photographed in the same home studio, no photoshop. In the studio, you can set the light in such manner that no need to adjust anything. I am very pleased that the picture with the dolls took the third place. As a whole, photographic online community was not happy of dolls. Dolls – the author's art work to create characters based on the so-called BJD forms. More on this – in a separate section of this site. I include here information from the note to picture:
Studio light + Cokin 088 duffuse filter.

Models: Jessica, Akando from IpleHouse (doll), author image – Tancredi, makeup – Rioku
Photo story "Deep Evening" consist on 28 frames with sequent events. Looks good with background music of J.S.Bach in our "Dolls + Guitar" project. This clip was ranked at top most viewed. Next photo stories "went" to this musical project, not to photo forums.
Next – about pictures that took places for 4-6 and 7-9 of views.
---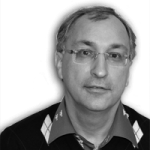 Vadim Nikitin