I heard at first time Unchained Melody in movie Ghost. Found good scores for   Unchained Melody on guitar. Story of composition looks very interesting 🙂

In fact, I was impressed not so much of the song and the way it organically goes to great play of actors Patrick Swayze and Demi Moore and to storyline. I was very hooked on harmonic basis of composition of the never-ending flow of harmony to harmony, so naturally, that I wanted that composition lasted more and more. Similar feelings were from the C major prelude of I.S.Bach  from "Well-Tempered Clavier."  The name "Unchained Melody" I translated for myself  to russian as "endless melody".




When "dug" deeper it was not so, but much brighter 🙂
It is believed that the "Unchained Melody" is the most recorded song of the 20th century. The number of different versions is of more than 500. There were cases of simultaneous hit to the top charts from several performers.

Melody was composed by Alex North in 1936. Singer for some reason did not accept, and  melody had lain "in table" for 18 years until 1954. During this time, Alex North was "venerable" composer of music for films.
It was concluded contract to create the music for the film "Unchained", which was released in 1955.
This year is count as year of creation of "Unchained Melody" and a song title went from the name of the movie. Also in 1955, the notes (scores) were published. The song was nominated for "Oscar". By 1965, there were about a hundred different versions (covers).

In 1965 it was recorded version that became a "classic", i.e. it is usually cited until now.
Cover belongs to the group "Righteous Brothers", or more exactly to one of them, Bobby Hatfield. This version went into the movie "Ghost."




A little more about the author and the first singer.
Alex North (1910-1991) was born in the United States in a family of immigrants from Russia. Alex North is an alias (pseudonym). He received musical education in Moscow Conservatory (Russia, Soviet Union), was the first American student. He arrived with his wife, an American ballerina, but with typical russian name Anna Sokolova. In 1935 He returned back to the United States. Gradually, He began to write music for films, very successful. Here is a small selection of published soundtracks.
Hy Zaret, 1907-2007. This is also a pseudonym. By 1954, when He received a contract to create the lyrics for the song he was already a famous "song-poet". It was recognisable success – translation into English from French song of the French Resistance movement, composed by Anna Marly in 1943. It is interesting to note that to French song was translated from Russian, the full name of the author – Anna Smirnova-Marly (1917-2006), Marly – pseudonym.
Todd Duncan, 1903-1998, opera baritone. In the film "Unchained" He played a cameo role, as far as I understand, especially for the song. Since 1935 He played 1800 times on stage the party of Porgy in the opera "Porgy and Bess" . During his career He gave 2000 solo concerts in 56 countries. By 1955, He was widely known.
So, the success of the song "Unchained melody" is very far from "by chance"  🙂
Here is Unchained Melody on guitar. Composition was recorded at home, configuration is described here.
---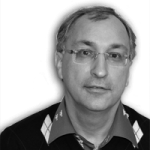 Vadim Nikitin