The composition Feelings is known since 1975. In the original performance, Morris Albert immediately took the world, and the author went down in history as a "one-hit wonder". It was re-played (covered) many times, and in general popularity does not fall. I found a good arrangement for guitar, the author does not know me. As a video, I used the photo and video of bicycle season in summer 2017.
I must say that as it often happens, the world fame was received due to a successful performance. Approximately so it was, for example, with Unchained Melody (for details see: Unchained melody on guitar.
Lulu Gaste (music)
The melody that became known as Feelings was created in 1956 by the famous composer Lulu Gaste (Louis "Loulou" Gasté, 1908 -1995). For fifty years of creative activity, he wrote about 1,200 songs, of which ten have gained world fame. The song was called "Pour Toi" ("For you") lyrics by Albert Simonin with his wife Marie-Hélène Bourquin, for performer Dario Moreno.
Fame came in France almost immediately, as the song entered the 1957 film Le Feu aux Poudres (Gunpowder), scenario was written by Albert Simonin. The song was "re-sing" (that is, the records were published) by 132 performers, but apparently it did not go beyond Europe.
Most likely the song "Pour Toi" not became popular and eventually was forgotten. Otherwise, it is difficult to explain why in 1974 the song became known anew under another authorship. And very widely known 🙂
Моррис Альберт (слова)
In 1974, the Brazilian author and singer Morris Albert (He is also Maurício Alberto Kaisermann, born 1951) wrote English lyrics, the famous Feelings and performed as his song. In 1975, the composition received the first of the awards, a year later it was performed by Elvis Presley and Frank Sinatra. In addition, the song returned to France, with the translation of the words into French, with the name "Dis-Lui" ("Tell her"). In 1977, Lulu Gaste announced his authorship to music. Apparently "on friendly terms" the dispute was not resolved, it came to court, which 10 years later, returned the authorship of music L. Gaste, and for M. Albert of course remained the authorship of the text and 1/8 of the royalties.
Arrangement
I do not know the author of the arrangement for guitar, he was not indicated in the score.

It is not difficult to play, though I rarely play with clear sounds.
On guitar
---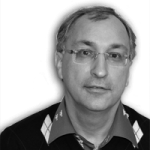 Vadim Nikitin