This winter in Moscow go to set a warm record for the entire 140-year history of observations. Today, February 11th, we were happy to do the first training of the season, put slalom course. Of course I expected some troubles from Timing, but everything went pretty smoothly. Failures were ordinal, for example, the photo finish somehow stopped working, because the reflector was turned out by ski pole.
This is the start. The gate, and the "Start" module and the "Control" module are fixed on the pole.
It was quite thick snow, so I expected ed false triggering of the photo finish. But everything worked fine. Install finish gate by 4 meters. Honestly, I would like a little more 🙂 Maybe by the next season I'll upgrade the photo finish, retrofeflective device with a 7-meter distance appeared on Ali Express.
Time board was located near ski lift.
The batteries did not fail, the training time was two and a half hours. True, it was not cold, minus one and a half centigrade. The radio channel worked reliably (the distance between the modules was approximately 250 meters).
The individual stopwatch worked well, the signals from Start and Finish did not overlap, and the response was reliable. True, the battery suddenly sat down, so I need to figure it out.
Here are collected all the notes on the theme "Timing for skiing on Arduino".
---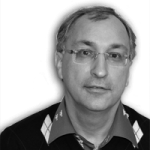 Vadim Nikitin